Take a Look Inside Our Store
BedsRus Ashburton is a premium destination for all your bedding and sleep comfort needs. Situated near the Ashburton River, this store is renowned for its extensive selection of high-quality beds and mattresses. We are proud to be a great example of a BedsRus store, having won Store of The Year twice! With a commitment to providing exceptional customer service, BedsRus Ashburton offers a personalised shopping experience, assisting customers in finding the perfect sleep solutions that cater to their individual preferences and requirements. We also offer top of bed products to protect and dress your mattress. Visit us in-store for all your sleep needs and any enquiries you may have.
Our Awards & Nominations
Store of the Year - 2015
Store of the Year - 2023
Our Awards & Nominations
Store of the Year - 2015
Store of the Year - 2023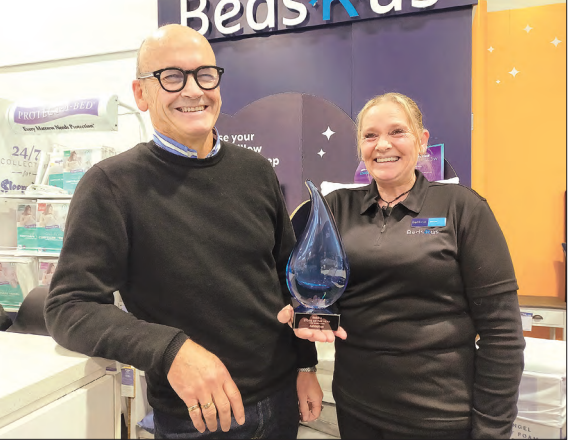 Meet Our Team
We are a small but enthusiastic team led by Becks and championed by our store owner Chris. Our dedicated team is not just passionate about selling beds; we're committed to making your entire sleep experience exceptional. We understand that selecting the perfect bed is a personal journey, and our friendly and knowledgeable staff are here to guide you every step of the way. Our exceptional customer service, team work, and commitment to quality has seen us recognised as the best BedsRus store in the country on multiple occasions.
Why We Love Ashburton
With the braided Rakaia and Ashburton Rivers running nearby, the town is set against the backdrop of the magnificent Southern Alps, offering a picturesque blend of nature and urbanity. We have everything you could need from an international airport to the best fishing spots. But above all of that, the community in Ashburton is what makes this place so awesome!

-BedsRus Ashburton team
What We Love About Our Store
We pride our store on being welcoming, tidy and easy to navigate for our customers. We love the work we get to do within the community and it has helped us connect with some amazing people. We are proud that our store has been recognised as a shining example of what a great BedsRus store should look and feel like.

-BedsRus Ashburton team
Come and Visit Us!
Address
28-32 Moore Street, Ashburton 7700
Opening Hours
9:00am – 5:30pm Monday – Friday
10:00am – 4:00pm Saturday
11:00am – 3:00pm Sunday
Store trading hours may differ during public holidays. Please contact us before visiting.
Contact us